http://tch546.tripod.com/smkt/apteaco.html

This is in Riverview, Michigan, on Fort. This is one of the most interesting Farmer Jack stores I've seen, with the stone details. The interior is early 90's.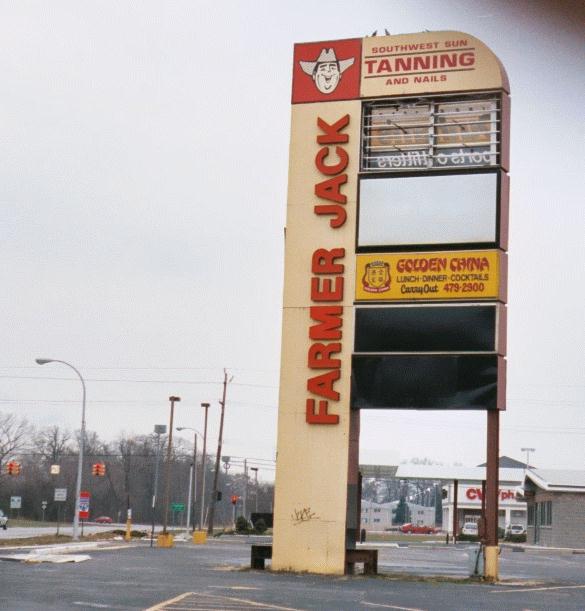 These are the coolest signs. I think they're from the seventies. There aren't too many left. These are at the Riverview store. The second one is smaller than any other one I've ever seen.

This was the 14 Mile and Ryan store in Sterling Heights, Michigan. It is totally original early 70's (I'm pretty sure of the timeframe) outside. Dig the old logo sign...those are hard to come by nowadays. It closed February (?) 2004. It reopened as a Food & Drug Basics in April 2004. Everything you see that is brown is now green...very tacky...

This is the 10 Mile and Ryan store in Warren (south end), Michigan. It's original (probably 70's) outside except for the tan paint. It was originally brown. There are a couple others left like this, like the store (now a Dunham's Sporting Goods) at M-59 and Delco in Sterling Heights. The 12 Mile and Campbell (Madison Heights) store was like this too but it has since been remodeled and looks quite nice. The store shown here was closed in early 2003.

This store closed in 2002. It is at M-59 and Hayes on the Sterling Heights city line. It was opened around 1986 or so as an A&P Sav-A-Center and was one of the last A&Ps to convert to Farmer Jack around here (1993). The significance of this intersection is that there were for about three years not one but TWO Farmer Jack stores at the same intersection. This one closed upon the opening of the Canal and Schoenherr store and the other store was remodeled outside (quite ugly, looks unfinished actually).

This is at the River Oaks Shopping Center on Evergreen in Dearborn Heights, Michigan. This was the last centennial-style A&P building still housing an A&P store in southeastern Michigan. This picture, I believe, is from late 2003 or early 2004. The store was closed as of February 2005 and is already a Value World.

This is of the Farmer Jack in Monroe, on North Telegraph. It is pretty representative of Farmer Jack stores from around 2000.
This is of the Clawson store, on West 14 Mile. I remember seeing shoes for sale in this location many years ago...

This is of the Rochester Hills store, on South Rochester near Auburn. This is from the mid-80's and there are several others similar. This store closed permanently in February 2004 and is now a Best Buy.

This is of the Warren store at 12 Mile and Gloede. This exterior is still original, except for the beige paint, which was originally brown like the 14 and Ryan store pictured above. This location is a bit larger than that store as well.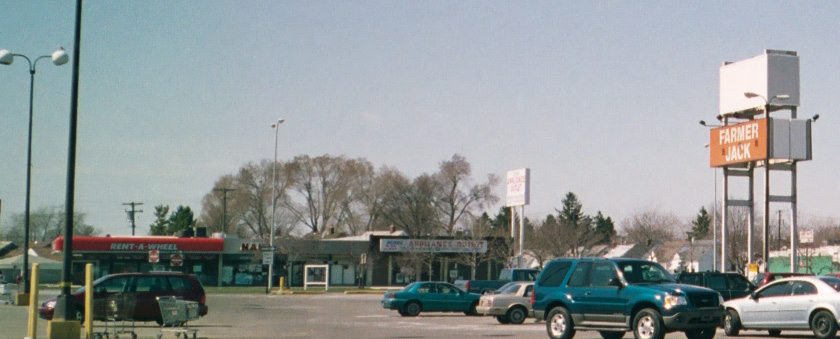 This is of the old store at 8 Mile and Gratiot, in Eastpointe. It was closed in early 2003. Originally it was a Chatham from the 1970's, it became an A&P in the 1980's and became a Farmer Jack around 1993.